Planet Lounge Radio presents: VIP Package Vienna Marathon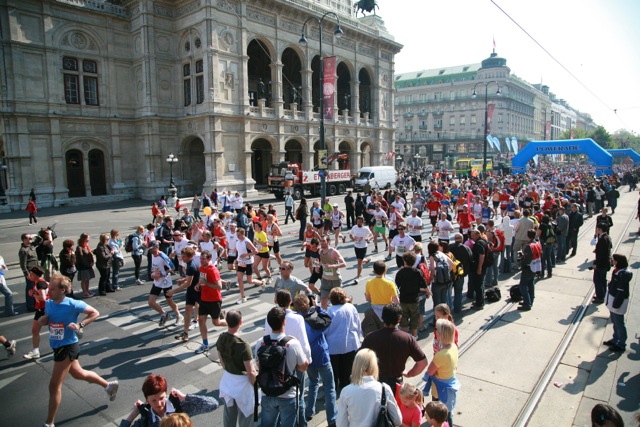 Als offizieller Touristikpartner des Vienna City Marathons, hat die PDM Tourism Group in Kooperation mit Planet Lounge Radio für den kommenden Wien - Marathon im April 2013 ein einzigartiges Package geschürt, das es in dieser Art noch nie gegeben hat. Das VIP Package ermöglicht Hobbysportlern den Marathontag in Top-Athleten Atmosphäre zu verbringen, den Top-Läufern bei den Vorbereitungen über die Schulter zu schauen und sich mit ihnen gemeinsam auf das Laufevent vorzubereiten. Rund um diese Leitungen wurde ein 3 Nächte Luxus Paket geschnürt. Dieses exklusive Package ist auf 20 Stück limitiert.
Zielgruppe sind zum einen wohlhabende Marathonläufer, die sich diese einzigartige Möglichkeit nicht entgehen lassen möchten und zum zweiten Personen in leitenden Positionen (Management, Top-Management), die für Kunden, Lieferanten, Partner oder Freude dieses Package interessant finden.
VIP Package for the Vienna Marathon
More than 32,000 racers from across the entire world will celebrate the Vienna City Marathon's 30th anniversary on April 14, 2013. The PDM Tourism Group – official travel partner of the Vienna City Marathon – has put together a great offer for this special occasion: our VIP Package with highlights which were never before available for purchase.
WORLD PREMIERE – EXPERIENCE THE MARATHON WITH TOP STARS
After a breakfast with world-class athletes, our clients will head to the top athletes' tent, where they can warm-up for the race and get up-close to the stars while they prepare. Our VIP Package also offers guests a great social program which includes a meet & greet and luxurious dinner with Race Director Wolfgang Konrad, and a guided sightseeing run or carriage ride with a visit to the marathon backstage area, among other activities – the perfect way to round out your visit to Vienna!
INCLUDED SERVICES:
Breakfast with top athletes on race day
Race preparation and warm-up in the top athlete area (starting and finish line areas)
1x participation in the Vienna City Marathon or Half-Marathon
Access to the VIP area
Meet & greet with the Vienna City Marathon Race Director, Wolfgang Konrad
Vienna City Marathon farewell dinner (5-course meal)
Exclusive carriage ride through Vienna including the Vienna City Marathon backstage tour
Entrance to the Vienna Sports World 2013 (Marathon exposition)
"International Friendship Party" – enjoy typical Austrian treats in the PDM Tourism Lounge located in the Vienna City Hall
guided sightseeing run through downtown Vienna
3 nights in a double room including breakfast (April 12 – 15, 2013)
first class transfers (Mercedes S-class)
Our VIP Package wouldn't be complete without the right hotel. We are proud to offer VIP guests accommodation at one of three upscale hotels for their stay.
Contact us: sales@planetloungeradio.com